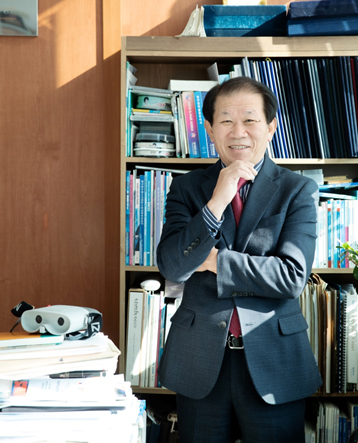 IZON, the manufacturing and developing of eye exercise device, established to Help to maintain and improve eyesight through eye exerciser.professional staffs have had the expertise for the eye exercise for over 36 years.
IZON's product got some of certifications, such as ISO9001, KC, CE, FCC, C-TICK, and be registered FDA Class 1.
Technology of IZON's product has been proven by the thesis which written by a professor in Gangwon National University and TV program(SBS IDEA HOWMUCH).
Chairman(Founder) of IZON, Mr. Sukjong Chang wore glasses for over 10 years when he was young.
At that time, Mr. Chang thought that he wanted to take off eyeglasses because he had felt a pain in my nose and ears which were pressed by eyeglasses.
While He was reading many books about eyes which told that could get better vision. Finally, he found some reasons that lose eyesight That is IZON's beginning. he realized humans were part of nature, too. he found that natural people sunbathed during the day and look far away, and took a rest by darkness fell during at night.
so even though he overworked his eyes during the days, he rested and exercised afterwards. And he lived a nightly life(darkness) to give plenty of rest at night.
he recovered his normal vision in 20 months after doing special vision training which was developed after research and letting his eyes take a rest.
In the past, mothers blocked sunlight to their rooms even at the moment when their babies were born and they gave their babies an environment just like mother's stomach for three weeks. These days, however, babies are born in the brightest place and they stay at a bright room exclusively for them all day long.
In addition, people turn on lamps even while feeding their baby with milk, so, their eyes got stressing and tired with bright light.
Many children live in bright places, get accustomed to small letters and look at things closely. Under such situations, people might have bad vision.
Looking at them, he developed an eye exerciser. As people think vision which once becomes bad can't be recovered, they have been careless about it.
A social phenomenon of rapidly worsening vision due to various environments has become an issue and a movement to prevent vision from getting bad and to recover vision has been displayed.
For this, an instrument to strengthen training of eyeballs was developed after long research. Education has been conducted for elementary school students, winning favorable response.
IZON will make utmost efforts to maintain good vision and make a healthy world through helping people easily and interestingly practice through a device to strengthen eye muscles.